Choose J.O.Y.
J.O.Y. is a choice to put Jesus Over Yourself® every day— that we would be a prepared bride ready for her Bridegroom King.
Our apparel makes a statement to the world and serves as a reminder to ourselves— to choose Jesus.
SHOP APPAREL
Start Choosing J.O.Y.
Freedom is your blood-bought right in Christ Jesus. This workbook leads you through the deep heart work, biblically, with tangible definitions, steps, and guidance, as you enter into this journey of freedom with your Helper and Healer, the Holy Spirit. Let Him do the work in you!
Buy Workbook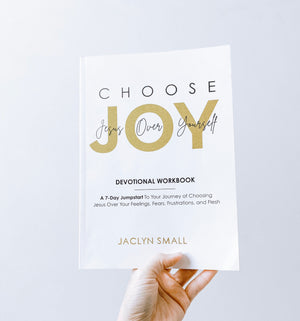 READY to CHOOSE JOY?
This workbook is the start of your journey of choosing J.O.Y.
So many things from our past and present get in the way of choosing Jesus daily. Straight to the point, Jaclyn shares the foundational parts of walking through this healing process with the Lord and how to tangibly uproot old ways an thinking that hold you back from living a Holy Spirit-led life. 
It is for every woman who is tired of being led by her feelings, fears, frustrations, and flesh and is ready to walk in FREEDOM- our blood bought right as a believers. 
More info
KINGDOM IS MY CULTURE
THE DOOR INTO THIS KINGDOM IS THE CROSS OF CHRIST...
AND DISCIPLES ARE THOSE WHO ENTER!
While you are still in this world naturally, you are NOT of it supernaturally. You live in a totally separate Kingdom, ruled by a totally different King. This Kingdom of God is the very antithesis of the Kingdom of Darkness. It's culture is taught in Matthew 5, where we discover that the Kingdom of God is literally upside down from the world.
Kingdom Citizens...Kingdom is our Culture, and Jesus is our King!